Shopping Cart
Your Cart is Empty
There was an error with PayPal
Click here to try again
Thank you for your business!
You should be receiving an order confirmation from Paypal shortly.
Exit Shopping Cart
SQUARETAIL FLIES & GUIDE SERVICE
Guided Maine Fly Fishing Adventures and Traditional Maine Flies
| | |
| --- | --- |
| Posted on May 16, 2012 at 2:07 PM | |
So, a common question I hear a lot is how do I keep catching nice fish. 
Well, beside answering with the stock response of "Luck" and "Persistence", my secret really isn't a secret, it's because I fish sinking lines a majority of the time I'm on the water and that puts my fly down to where the fish are.  I hate to break the news to you but if you're fishing shallow you're generally fishing over small aggressive fish or empty water.  The bigger fish got that way because of self-preservation and hanging out up top waiting to be an easy meal for an eagle, loon or osprey is a losing proposition.  And if they're in moving water it also expends valuable energy and calories fighting hydro-dynamic forces.  I have had more than one day on the water when I truly believe that the reason I was catching fish and others weren't was solely because I was using a sinking line.  I don't think that it was because the fly I was using at the time was some secret killer pattern, I think that it was because the fly was in the fishes face.
For some reason I can't fathom people seem to be afraid to fish sinking lines because they think they're difficult to handle.  I don't find that to be true, it's just a different feel.  To me it's no different than when you started casting that floater the first time you picked up your rod, you had to learn how it reacted so you could master it (or at least attempt to, I'm still getting there myself)  And if you try to feed me the line "But I keep winding up getting tangled up in my line" I would counter that perhaps you shouldn't be fidgeting about so much while you're fishing.  It's either going to go downstream of you in a stream or sink out deep in front of you in a pond.
Now, being the type with the propensity to go overboard on fishing gear I have pretty much every sink-rate of line manufactured hoarded away "just in case" and I definately have more than what I really need to effectively fish.  Dependant upon the depth of the water I'm fishing, I generally wind up fishing either a RIO Deep 6 Density Compensated full-sinking line or the Orvis Streamer Stripper which has a short 5' type 5 sink-tip.  Those are my bread and butter lines.  Third in line would be the Scientific Anglers Professional series type III full-sinking line or what used to be known as the Wet Cel line.  And a type 1 Intermediate line is also an option in shallow ponds.
A pet peeve of mine is the current cost of fly lines nowadays which have risen to beyond ridiculous.  The Deep 6 is now $75 while SA's Master series will set you back $70.  The SA Professional series and RIO's Mainstream lines come in at a much more reasonable $40/line.  I personally prefer the RIO lines as I think they get down quicker although they're a bit thinner in diameter and definately have a different feel to them.
So, what's the alternative if you're just starting out, a casual angler, or on a budget?  Glad you asked!  RIO has a fantastic product called the VersiLeader which fills the bill perfectly.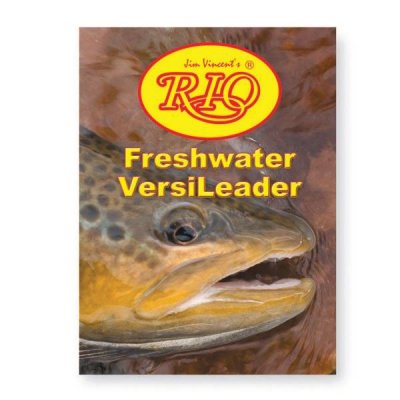 They offer them in two lengths, either 7' or 12' and in 5 sink rates.  The 7' leaders run about $9 and the 12' option about $15, a very affordable option.  If your local dealer isn't carrying them they can be purchase online like everything else these days. 
These suckers really get down and are great if you don't want to haul around an extra reel or spool.  I've personally been carrying a 12' type 5 and 7' type 1 for hike-in trips when I'm trying to keep the weight down.  And the 12' type 5 will get down really deep, it winds up taking the tip of my floating line right down with it to get to the bottom.
If you're on the fence regarding sinking lines, give the VersiLeader a shot, I think you'll be surprised with the performance and results.  Perhaps you won't get huge numbers of fish (I really don't), but I think you'll find the size of your catch increases once you start utilizing that sinking line.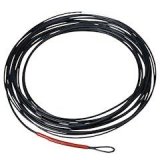 Categories: maine fly fishing blog
/