Shopping Cart
Your Cart is Empty
There was an error with PayPal
Click here to try again
Thank you for your business!
You should be receiving an order confirmation from Paypal shortly.
Exit Shopping Cart
SQUARETAIL FLIES & GUIDE SERVICE
Guided Maine Fly Fishing Adventures and Traditional Maine Flies
So obviously as a Fly Tyer I love the flies of our chosen sport.  I also love lists and get asked my personal favorites quite a lot.  I have decided to post a series of the patterns by catagory I like to fish and that produce for me.
For no better reason than I currently am on a kick to tie and replenish my stocks of them for an upcoming trip in June, I'm going to start out with a list of my favorite attractor dries for Brookies along with some accompanying comments.  The flies I prefer aren't garish and overly colorful although some are.  These guys just have some cool personalities, are buggy looking, and most importantly - work.  I also love to tie more realistic patterns but there's definately fun and production with the attractor styles as well.  Probably about half of my 5 tray Downstream Chest Box system contains attractors while the other half consists of more imitative patterns.  Most of mine are tied up as #14's or #16's with some #12's or #10's occasionally mixed in.  On a wild day I might just even tie up a #8, but not often.
My list is by no means meant to be a be-all, end-all recommendation, just the flies that are near and dear to my heart, that visually speak to me, and have been good to me on the water over the seasons.  There are many, many more excellent patterns to choose from as well.  No slight has been intended by omitting such standards such as the Stimulator, the rest of the excellent Wulffs, Madam X, Turk's Tarantula, Doodle Bugs or Hornbergs to name just a few.
Maybe you'll find a pattern or two in these lists that will inspire you to pluck it out, tie it up, and try it yourself.
H & L Variant - Nice and buggy and easy to track in broken pocket water.
Mr. Rapidan - See above.
Ausable Wulff - A lot of times I tweak mine, using moose body hair for the tail and orange poly/Fly Rite dubbing for the body but I definately still tie, fish, and love the original.  It's usually the first fly I tie on for searching small streams.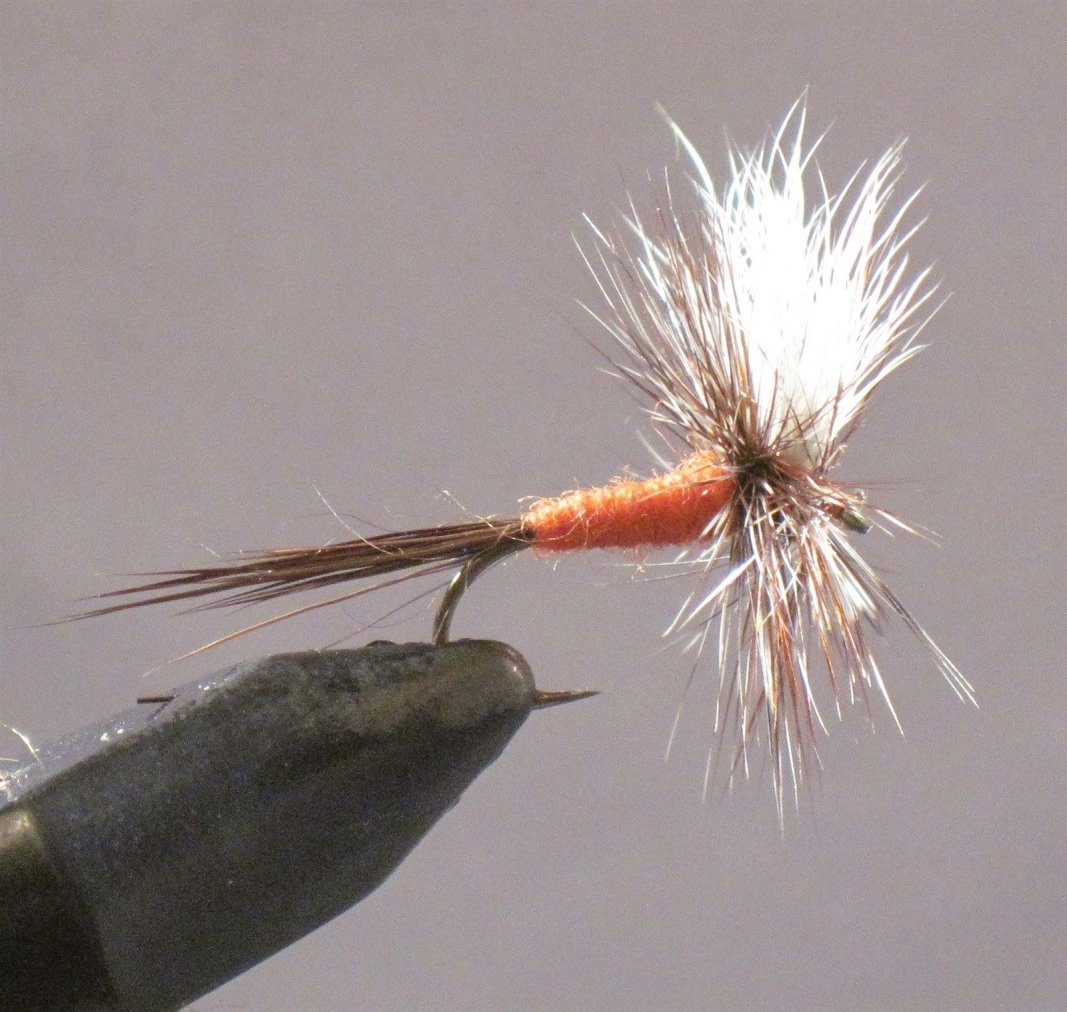 Fran Betters Ausable Wulff.  I could do a lot worse if I was limited to just this one pattern as an attractor for prospecting or when nothing else is going on hatch wise.
Royal/Red Humpy - Good to me when I fish it in the afternoon/late in the day.  I do slightly better with this than a Royal Wulff.  Maybe it's because of the beetle-ish hump of the body?
Montreal Wulff - I suppose this could also be a loose Isonychia imitation but like the Ausable Wulff it can drum up fish for me about anytime.  I also tie it as a Trude style with tan calftail for the wing.  Finding claret hackle for tying it can be challenging, however.
Leadwing Coachman - As per above except for the Trude comments.
Rat-Faced McDougall - A fantastic floater and productive fish taker.  I also really like the Adams  and White Irresistibles which are similar.
The Usual - Fish everywhere just jump on this thing, Fran Betters defintately got this one right among other patterns of his such as the Ausable Wulff.  And I've found landlocked salmon really like this sucker, too.
Gray Coughlin - As buggy as an Adams but it imitates caddis better I think.
Renegade - Peacock herl rocks any fly and in smaller sizes it could be either a midge or caddis.
Bi-Visible - Black is my favorite followed closely by Badger.  I personally don't fish it but Brown is also a good color option.
This year I'm going to be trying out the Conover and the Cinberg, two wonderful Catskill patterns that have caught my attention and I've never tried before.  I especially like the Cinberg and can't wait to see how it fares, something tells me it's going to be a pretty good fly!
So there you go, you now have a little peek into my personal fly boxes, what patterns do you lean on?
Stay tuned, more to follow...
/