Shopping Cart
Your Cart is Empty
There was an error with PayPal
Click here to try again
Thank you for your business!
You should be receiving an order confirmation from Paypal shortly.
Exit Shopping Cart
SQUARETAIL FLIES & GUIDE SERVICE
Guided Maine Fly Fishing Adventures and Traditional Maine Flies
I recently spent a week in the Allagash region on my never ending quest for lunker squaretails.  The weather played the usual culprit (it's always easier to  blame the weather than ones own inadequacies fishing-wise) as the pond temperatures were much higher than I had anticipated for the second week of June.  Some of the ponds were pushing mid-70 temperatures towards the end of my trip.  
Lesson #1 of this trip: ALWAYS plan your fishing trips for the end of May!  The water might be high in the rivers and streams but the pond temps will be good.
In summary the fishing was good.  Not epic, but certainly good.  Other people staying where I was got into some nice 16-17" fish and I certainly had my chances although I landed plenty of nice brookies to 14 1/2" during my trip. 
I stayed at Johnson's Allagash Lodge (
www.allagashlodge.com
)with my excellent and highly knowledgible host Bob Johnson and couldn't have had a better time.  I certainly will be back as his operation is just what I'm looking for in a Northern Maine experience.  He is a seasoned guide, a gracious host, and one hell of a pilot - just ask the boys in Greenville. 
I want to come back earlier in the season and in September, the fish in his neck of the woods are dark and beautiful even in the spring and I can only image what they're like in thier spawing colors.   I readily admit to being "Brook Trout Queer" as Bob puts it.
Bob also does chainsaw wood carvings of fish that are absolutely amazing and the pictures on his website don't do them true justice.  He doesn't ask nearly enough for his work so get one now before he wises up.
So what is the biscuit incident then you may be wondering?
I thought I'd help Bob out by making some biscuits for dinner one night, proud of my ability in the kitchen.  Instead of the easy way out with the Bisquick mix I decided to show off and make them from scratch.  As I opened the Crisco can it had a very, er... shall we say unique color (transparent, not white) and even more unique consistency (as in you couldn't get it off anything it touched - hands, counter, mixing bowl, rolling pin, you name it).  I think that should have been the warning sign right there but I'm a stubborn cuss and wanted to make some damn biscuits for Bob as a Thank You for all the great info he had been sending my way.
What I didn't realize at the time was that Bob was probably trying to supplement his income by developing a new all-purpose lubricant with dreams of selling it to the Aerospace industry and making a killing to retire off of.  I believe Allagash Bob's  Love Lotion and All-Purpose Lube came up as a possible name for the product, testing to follow at a later date.
Irregardless my biscuits wound up sucking and were completely unfit for human consumption.  Bob contemplated leaving them out to kill mice but had a change of heart as he's a compassionate sort who believes in a humane kill.  I wound up conceeding to the Bisquick and redeemed myself with a second batch, Thank God.
Lesson #2 - When the Crisco has been frozen and thawed after several seasons in the northernmost regions of a Maine lodge, it's best to stick with the Bisquick for the biscuits and not get fancy.
So on to the fishing.  It started off well enough as my very first fish on would have been measured in pounds and not inches.  It was a very heavy fish but I didn't tie the knot well and it found freedom before I could get a glimpse or snap a picture.  This was on a pond I shall not name on my way in to the lodge.
I was trailing a #10 Dragonfly muddler off a #8 Red-Bellied Dace bucktail and am not sure what it took but the strike was vicious.  The same muddler off a #8 Wood Special also got a couple whacks but no joy in the landed department.  I finally landed my first fish of the trip during a sparse Hendrickson hatch in the evening off a #12 Birds Nest nymph (which is a hell of an underrated fly by the way) and it taped out a bit less than 15".
I also reinforced why I hate Trico hatches as I was completely beffudled by one on my fly-in trip to a isolated pond that refused to cooperate with my desire to land some of it's very nice fish.  I had stripped down my fly selection to minimize my luggage which turned out in retrospect to be a very bad move.  I think I equated low fishing pressure to stupid, non-selective fish and that was the wrong assumption. 
I never carry Trico patterns as I don't fish the hatch but I at least would have had some of my usual small midge patterns that probably would have been close enough for some looks from the fish.  As it stood I decidedly got the finger or fin from every last one of them.  Actually, I can't say empirically that it was a Trico hatch but my host seemed to think that it probably was and the indications from the fish lead me to believe it as well.  Another fishing experience to file away in the learning process and it's always a learning process if you want to keep improving your skills as an angler.
Another experience that only serves to reinforce why I preach life vests is my tipping my canoe in the middle of a pond the one day I didn't wear it.  I was wearing it religiously but that particular day it was raining and I own an auto-inflatible model.  I thought the rain would light it off and I was on the home pond so I flaked.  Bad move.  You can probably see what's coming next.  
I wound up down on the far end of the pond out of sight of the lodge, wearing waders I might add.  While trying to untangle my fly line from around my boot cleats I started to wobble the canoe and when I adjusted to the other direction I found out just how fast a canoe can roll and out I went lightning quick.
I popped up clutching my Winston rod in my hand and scooted up the back of the canoe, hugging it as I kicked the 60 feet or so to shore while my waders rapidly filled with water.
I finally made shore after an excruciatingly slow and tense transit and wound up catching 7 leeches and 3 brook trout parr as I rolled the canoe to unship the water in it, a pretty neat sight in a messed up situation all things considered.
So, Lesson #3 of this report is also the most important one.  And it is this:
WEAR A FRIGGIN' LIFE VEST AT ALL TIMES ON THE WATER, YOU NEVER KNOW!  No one is bulletproof.  I got REALLY lucky as I had at least 70lbs of water in my waders when I took them off and could barely walk in them.  By all rights they should have dragged me back down into the water, someone was definately watching over this fool that day and it wasn't lost on me.  Don't be the next guy to press his luck.
The fallout is I also scrambled my digital camera so I couldn't take anymore pictures the rest of trip.  I'm still hoping it will dry out but it's not looking good at them moment.  I think the memory chip is okay, have to get a reader to find out.  I'll post a couple of pics later with this if it works.
On my last day I left Bob's with the intention of bush-whacking into another remote pond east of Chamberlain lake with the potential for some very large fish.  I bounced around in 4-wheel drive and actually passed the pond in question.  Coming back in from a different way, I got sidetracked onto a skidder road and wound up getting bogged down in a quagmire.  I spent nearly an hour on my hands and knees in the mud digging out the muck with a stick and stuffing rocks and branches under my tires for traction.  I finally broke free but with the wind taken completely out of my sails and the day about over I packed it in and started the trek out.  Fortunately I had some baby wipes in the truck and after about 20 I was semi-presentable to humanity and the good residents of Millinocket.
Lesson #4: Always have a portable shovel/trenching tool and come-along in the truck when in the backwoods, you will hate life if you don't.  I now know this to be truth.
Stay tuned, Allagash Bob's Love Lotion and All-Purpose Lube may be coming to a store near you!
In Maine "The Hatch" is refered to as the Green Drake hatch and has been for probably as long as anyone can remember.  But with more people educated today in bug taxonimy it is now refered to more and more by what it actually is. 
So then, what is it, actually?
Photo by Jenn Forman
First off, let me put out a disclaimer here, I am by no means a trained entomologist.  I do have more than a casual passing interest in it but I'm not an expert and may very well be talking out my ass.  Take this post for what it is, a friendly discussion amongst anglers-not a scientific disertation meant to be a reference publication.
There are actually two mayflies that sort of morph together into this hatch depending upon the individual water.  The first and larger fly is the Hexagenia Limbata or Hex.  The second is Ephemera Guttulata or the Eastern Green Drake.  To me they are very distinct in appearance, probably less so to the fish and the average angler.  But any way you dice it, the end result is that they're honking big bugs that have the ability to ring the dinner bell and bring up honking big fish.
See?  That's almost an inch and a half long mayfly!  That's the brook trout version of a foot long Coney hot dog!
Photo by David Quenneville
Now that we've established that, let's talk about the differences in a down to earth manner so that the average person can figure out just what it is they're encountering on the water. 
First off, the Hexagenia is larger, overall has a more pale yellow coloration with brown markings along the top of the abdomen, and sports two tails.  I find more Hexes hatching than Green Drakes on the waters I have fished and believe they are the majority of what Maine anglers encounter.
            Photo by David Quenneville
Photo by Jason Penney
The Green Drake dun has darker veins/mottling on a bright yellowish-green/chartreuse colored wing that really pops when you see it.  It also has three distinctively dark tails instead of the Hexagenia's two.
            Photo by Climingo
Photo by Carpatica Fly
Photographer Unknown
The Hex is generally the size of a #4 to #8 hook depending upon the model(I pretty much default to a #6), the Green Drake on a #8 or #10.
The flush floating emerger style dries always produce better for me such as Kenealy's Hex Emerger (my personal fav), Quigley's Hex Cripple, Kennebago Emerger, or a Snowshoe Emerger.  I also fish older flies with results like a large White Miller or Deren's Fox just because I can.  Having fun is what it's all about, right?  There are also tons of great parachute and paradrake style Hex flies I know others do exceptionally well with.  And if I could get ahold of Tim Obrey and get him to give up the ghost on his Sexy Hexy pattern I would be very happy indeed!  I don't know if it's a winning fly but the name alone sure is!
And let's not forget all of those old standard flies that have produced so well over the years like the standard or yellow Hornberg and large Wulffs (White, Grizzly, or Green Drake)
The Hex spinner looks a lot like the dun but with clear wings.
Photo by Charles Meck
The Green Drake is a different story altogether.  The Green Drake spinner is known as a Coffin Fly due to it's ghostly white appearance and looks a lot different than the dun. 
Photo by James Marsh
Spinners don't really offer a spinner fall opportunity due to the fact that it occurs very late at night long after most of us are in bed.  I don't bother to carry spinner patterns as I've never really done much with a Coffin Fly and have never used a Hex spinner.  There are plenty of great Coffin Fly patterns like the Dette Coffin Fly if you're interested in giving it a shot.
I have had some luck fishing a large #6 or #8 Green Drake wet early in the day after the previous nights hatch has left the remnants of the carnage floating around.  I initially figured that although I never saw rises to the leftovers there were plenty that were sunken and being snatched up down below.  Although it's never been a sure-fire fly/tactic and I certainly can't prove it I have taken enough fish this way that I believe it is in fact happening.  Either way It has given me another option to continue fishing the hatch and those enormously fun giant flies.
Photo by Jason Neuswanger
The nymphs are obviously most active in the afternoon leading up to the hatch but I'll let you in on a little secret.  I have autopsied enough harvested fish in May with Drake nymphs in them that the light bulb finally came on.  They may not be all over the place, but there are enough available year round that they're a food source of opportunity the fish will not disregard if you happen to have them on the end of your line.  Just like a Dragonfly nymph.  Try them in May or June if the water you're on has a population and you'll be pleasantly surprised.
For nymph patterns I like the Silvey's Hex or Pat's Hex nymphs.  Other popular patterns are Alvin Theriault's Maine standard the Maple Syrup(this is probably the #1 fly in Maine), Great Woolly, Burke's Hex, Yellow Wiggle, or any number of outstanding flies.  They all work and if you google them you will be swamped with options to try.  If it's big, is yellow or tan and has some movement, you're probably golden. 
My most consistant action is using nymphs on sinking lines but like anyone else, once they start to pop I'm casting dries.  It's just way too much fun to resist! 
I use 3x tippet for the most part to minimize line twist, helicoptering, and break-offs which will then require me to fumble around in the semi-dark cursing while I tie on another fly.  Not a recipe for success.  Sometimes 4x if I think the fish are fussy but I don't like it in this situation and in the low light the fish don't seem to be turned off.
So, now that you know a little bit more about the hatch and the mayflies, which ones are you fishing over?  Whatever your flavor, it's going to be fun! 
Now go gear up!
I've always wondered, why did the classic winged wet fly fall out of favor?  All of those wonderful patterns in Ray Bergman's classic "Trout" didn't get there by accident, did they?
Soft Hackles have still been fished with consistency to no surprise but I'm talking about the quill or flank feather winged wets.
Right after the casting streamer this is probably my favorite type of fly fishing.  I like to fish them on an old Fenwick fiberglass 6-weight I own with a nice slow action and it's a lot of fun.
Granted, that's a personal preferance perhaps because of my nostalgic bent but they are still damn effective flies, especially for brook trout who feed subsurface the majority of the time.  The British anglers on the other side of the pond have never stopped using them as they remain killing patterns on the Lochs for sea trout.
They do require some degree of skill to fish effectively by imparting some life to the fly and require you're paying attention to set the hook on a take but that's nothing the average guy with a rod can't handle.
Thankfully people like Don Bastian, Davy Wotton, Ralph Graves and Andy Brasco have brought them back into relevance, a new crop as talented or more so than previous luminaries like Helen Shaw or Art Smith.
I love the colorful attractors as much as the next guy but find the drab natural colors like anything else get the most approval and play from the fish.  As in real life, it's not always the prettiest belle at the ball that you'll get the most action with.  (Semi-apologies there but I never said these posts would be PC) 
Besides swinging, lifting or dancing them through the obvious lies in a stream like pockets, glides, riffles and tail-outs, give them a shot the next time you're on a trout pond.  If there's a wind kicking up I will fish them parallel to the windward shore where insects and other trout food are being washed towards and collected.  This has been a very effective tactic for me as fish will cruise there picking off the goodies.  Another obvious one is to fish a cast of multiple wets and mix up the flies to contrasting colors and styles.  The fish will tell you soon enough what it is on the menu they're looking for.
I won't say that I always have them in my fly boxes but more often than not I will, especially patterns like the Leadwing Coachman, March Brown, Brown Turkey, Black Gnat, Quill Gordon and Montreal.  Give some consideration to carrying them yourself and even more to fishing them with an honest effort.  In short order you'll wonder why they ever went away.
In no particular order, the list below are the standards that have done the best for me on Maine waters:
Leadwing Coachman
March Brown
Montreal
Black Gnat
Hare's Ear
Peter Ross
Grizzly King
Quill Gordon
Dr. Burke
Greenwell's Glory
Green Drake (Try this both during a Hex hatch AND early the morning after)
Cahill
Parmachenee Belle
Brown Turkey
Dusty Miller
Kineo
Campbell's Fancy
Tomah Joe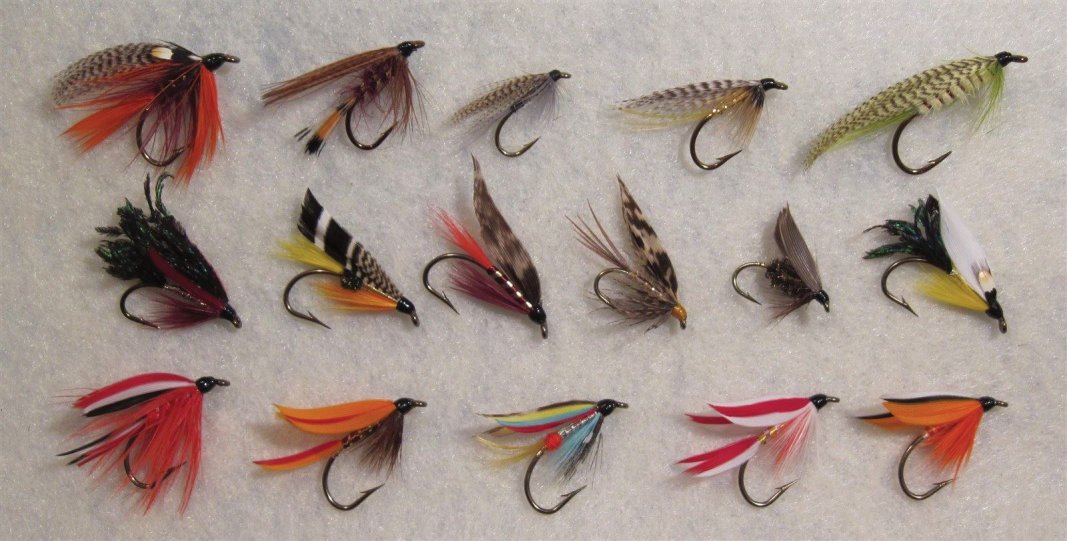 Classic Winged Wet Flies
(Click on the picture to enlarge)
Row 1: Rangeley, Mallard & Claret, Quill Gordon, Campbell's Fancy, Green Drake
Row 2: Alexandra, Tomah Joe, Montreal, March Brown, Leadwing Coachman, Dr. Burke
Row 3: Kineo, Logan, Silver Doctor, Parmachenee Belle, Trout Fin
So obviously as a Fly Tyer I love the flies of our chosen sport.  I also love lists and get asked my personal favorites quite a lot.  I have decided to post a series of the patterns by catagory I like to fish and that produce for me.
For no better reason than I currently am on a kick to tie and replenish my stocks of them for an upcoming trip in June, I'm going to start out with a list of my favorite attractor dries for Brookies along with some accompanying comments.  The flies I prefer aren't garish and overly colorful although some are.  These guys just have some cool personalities, are buggy looking, and most importantly - work.  I also love to tie more realistic patterns but there's definately fun and production with the attractor styles as well.  Probably about half of my 5 tray Downstream Chest Box system contains attractors while the other half consists of more imitative patterns.  Most of mine are tied up as #14's or #16's with some #12's or #10's occasionally mixed in.  On a wild day I might just even tie up a #8, but not often.
My list is by no means meant to be a be-all, end-all recommendation, just the flies that are near and dear to my heart, that visually speak to me, and have been good to me on the water over the seasons.  There are many, many more excellent patterns to choose from as well.  No slight has been intended by omitting such standards such as the Stimulator, the rest of the excellent Wulffs, Madam X, Turk's Tarantula, Doodle Bugs or Hornbergs to name just a few.
Maybe you'll find a pattern or two in these lists that will inspire you to pluck it out, tie it up, and try it yourself.
H & L Variant - Nice and buggy and easy to track in broken pocket water.
Mr. Rapidan - See above.
Ausable Wulff - A lot of times I tweak mine, using moose body hair for the tail and orange poly/Fly Rite dubbing for the body but I definately still tie, fish, and love the original.  It's usually the first fly I tie on for searching small streams.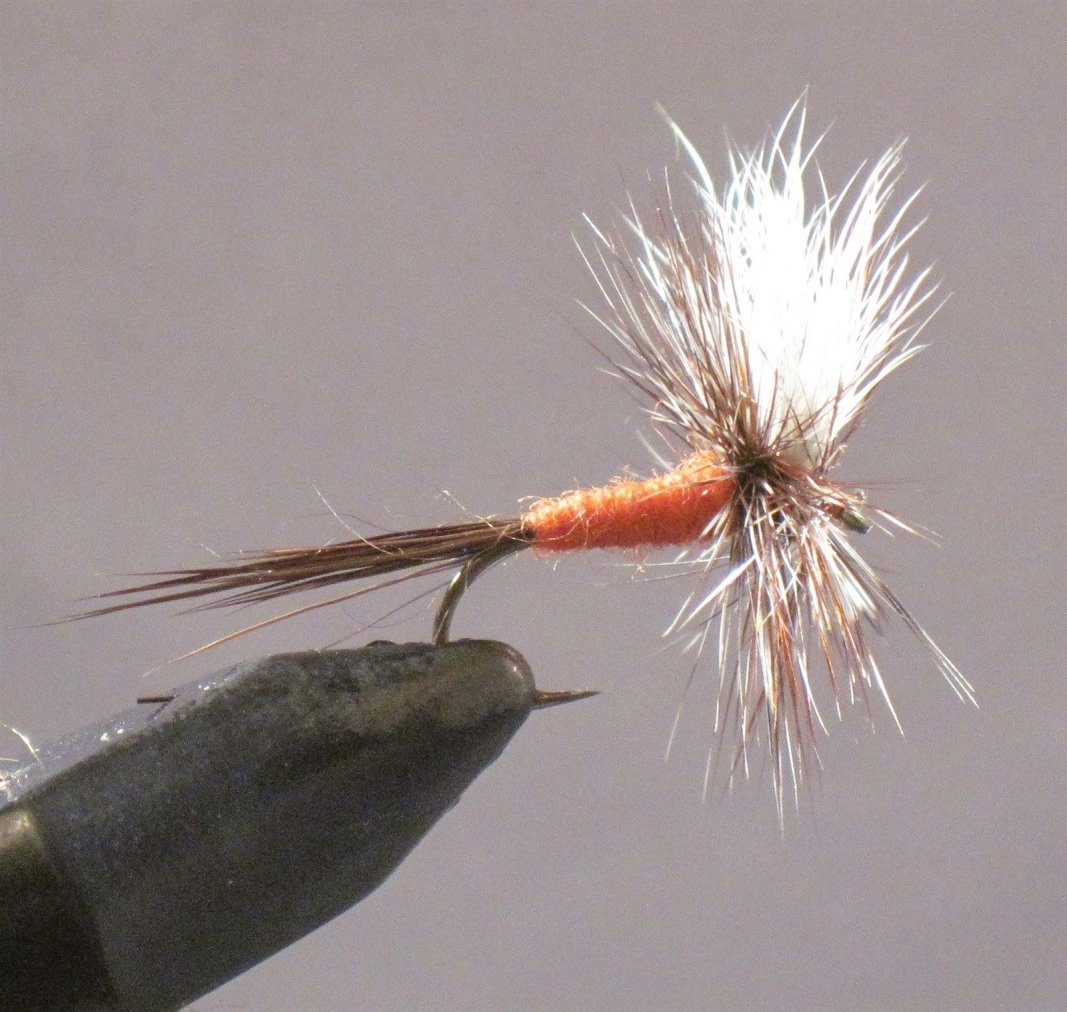 Fran Betters Ausable Wulff.  I could do a lot worse if I was limited to just this one pattern as an attractor for prospecting or when nothing else is going on hatch wise.
Royal/Red Humpy - Good to me when I fish it in the afternoon/late in the day.  I do slightly better with this than a Royal Wulff.  Maybe it's because of the beetle-ish hump of the body?
Montreal Wulff - I suppose this could also be a loose Isonychia imitation but like the Ausable Wulff it can drum up fish for me about anytime.  I also tie it as a Trude style with tan calftail for the wing.  Finding claret hackle for tying it can be challenging, however.
Leadwing Coachman - As per above except for the Trude comments.
Rat-Faced McDougall - A fantastic floater and productive fish taker.  I also really like the Adams  and White Irresistibles which are similar.
The Usual - Fish everywhere just jump on this thing, Fran Betters defintately got this one right among other patterns of his such as the Ausable Wulff.  And I've found landlocked salmon really like this sucker, too.
Gray Coughlin - As buggy as an Adams but it imitates caddis better I think.
Renegade - Peacock herl rocks any fly and in smaller sizes it could be either a midge or caddis.
Bi-Visible - Black is my favorite followed closely by Badger.  I personally don't fish it but Brown is also a good color option.
This year I'm going to be trying out the Conover and the Cinberg, two wonderful Catskill patterns that have caught my attention and I've never tried before.  I especially like the Cinberg and can't wait to see how it fares, something tells me it's going to be a pretty good fly!
So there you go, you now have a little peek into my personal fly boxes, what patterns do you lean on?
Stay tuned, more to follow...
/